Faith of Doss
The Hero of Hacksaw Ridge
Start For Free
Inspired by the movie Hacksaw Ridge.
What You Will Learn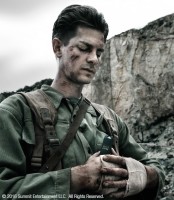 Faith of Doss
Desmond Doss had a faith that ran so deep that it motivated him to serve in a hellish war, compelled him to give up his stretcher for another wounded man, and enabled him to suffer ridicule and persecution from those he would end up saving.
Courage of Love
Doss was one of the bravest people alive, fearless with regard to what would happen to him.
Heavenly Peace on Earthly Battlefields
It's easy to miss one of the important reasons why Desmond Doss was able to stay on the battlefield and rescue so many men when everyone else was running for cover.
Authors

Pr Justin Lawman

Pr Neil Thompson

Pr Daron Pratt

Pr Rick Hergenhan
Pr Wayne Boehm

Pr Errol Webster
Pr Matt Parra
Reviews (15)
I've been blessed through studying through this course. Looking at the life and work of Desmond Doss, that he lived with the help of Jesus gives us all a model of belief and understanding to aspire to. Thank-you Jesus!
I recommend the Faith of Doss bible study course because it helps to build and cement your Christian foundation with basic fundamental bible principles. You will see the importance of having Jesus at the center of your life and studying God's word daily.
the course is so helpful to every person's life
I have study this course with an open mind. It was an eye opener with good reference to the Bible. My hat goes off to Doss, may he carry me when I'm down, as Jesus carried him.
This is a wonderful Spirit filled. Course, I felt blessed reading the text and the movie really moved me.
Quite a few edits needed, but that's not important. What's important is learning about following God. Study away!